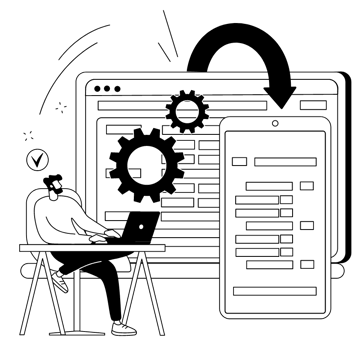 Data Exchange & Integrations
Streamlining Operations and Enhancing Data Connectivity
In the modern recruitment landscape, seamless data exchange and system integrations are key to operational efficiency and insightful decision-making. graylink's platform offers a suite of integrations and data exchange features designed to connect your recruitment processes with the rest of your enterprise operations.
BI & Data Warehouse
Connect graylink's digital talent solutions with your preferred Business Intelligence tools and data warehouses. By integrating these tools directly into the platform, you can aggregate and analyze your recruitment data alongside other key business metrics, providing you with richer insights and more informed decision-making capabilities.
ERP
Simplify your recruitment processes by connecting your Enterprise Resource Planning system with graylink's digital talent solutions. Easily exchange data between recruitment and other business functions, streamlining operations and improving data accuracy.
HRMS
Connect graylink's digital talent solutions with your Human Resource Management System to ensure a seamless data flow between recruitment and HR management. This helps maintain up-to-date HR records and promotes efficient recruitment-to-onboarding transitions.
Payroll
By connecting graylink's digital talent solutions with your payroll system, you enable a smooth transition of candidate data from the recruitment process to payroll set-up, ensuring accurate and timely compensation for new hires.
Custom Bi-directional Data APIs
graylink's digital talent solutions are equipped with custom bi-directional APIs, facilitating seamless data exchange with your internal systems. These APIs allow for automated data syncing between graylink's digital talent solutions and other systems in your tech stack, reducing manual data entry and the risk of errors.
3rd party marketplace
Our marketplace includes a variety of Job Boards/ Sourcing channels, Video Interviewing, Background Checking, Assessment, Onboarding, and HRMS/ERP examples which have been connected with graylink's digital talent solutions. Learn more >
Streamline Operations and Enhance Data Connectivity
With graylink's robust integration and data exchange features, you can build a connected, efficient, and data-driven recruitment operation. Leverage the power of your existing tech stack and unlock greater insights with seamless data flow across systems.